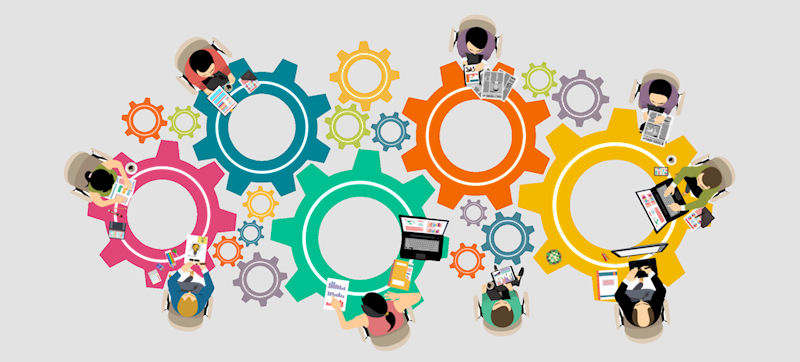 We are aware that a happy employee will bring happy customers. Our company provides suitable Occupational Health & Safety working conditions for its employees, keeping social dialogue open under all conditions and including employee professional & personal development training in its budget; We are building a happy, innovative, dynamic and peaceful team. We constantly support the white collar staff with young engineers and benefit from the innovative and dynamic perspective of the new generation.

By simplifying the complex structures in our processes with our organizational development strategy; We manage a climate in which different generations can work in harmony. With this strategy, to carry our organizational structure, which plays an active role in the development of our employer brand, to the future in a sustainable manner; We prepare backup plans and keep our talents at hand as our in-house promotion metrics increase every year.

Our basic human resources policy; With the aim of sustainable development, it is to increase productivity along with their motivation, job satisfaction and happiness with systems and practices that provide opportunities and contributions to the development of our employees. With the Employee Satisfaction Surveys applied in our company, we see our employees' successful practices and areas open to improvement. It is among our primary principles to create differences by keeping our satisfaction target constantly high, to increase our success day by day and to share this success with all our employees.

In the group of companies; We have an Idea project, which is born from the idea that the best person knows the job, and we ensure the participation of our employees in process development. We are delighted to make joint decisions with our employees who offer ideas to ensure continuous improvement, efficiency and efficiency in processes.

We organize Seniority Congratulation Ceremonies for our teammates who have been working devotedly for more than 15 years with the commitment practices we have realized within the framework of Organizational Development.
Social Life
We attach importance to social life as much as we attach importance to business life. We also share social life with activities such as bowling tournaments, theater events, children's festivals, breakfast, meals and picnics that we organize in line with our corporate and social values.

We focus on making our employees happy by making small surprises on certain special days. We have the opportunity to meet with our potential candidates by providing them with a detailed view of the denim world through technical trips with the universities and leading educational institutions of the sector.

We are always with our women employees; we support them in maintaining their work-life balance via our kindergarten service. We celebrate the birthdays of our employees with various corporate gifts; We support the growth of our family by giving gift kits to our new parents. We support our needy employees in their difficult days with in-house campaigns. We strive to be with our employees every day, good and bad. We share all our activities with our employees and followers on our social media address @crosstextileshr